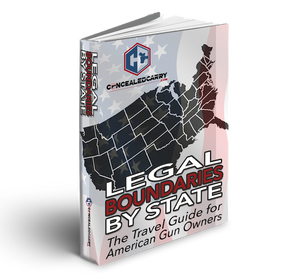 Firearms Legal Boundaries by State
As it is our right to own and carry a firearm it is also our responsibility to know the laws surrounding when, where and how you carry especially when you travel.
Concealed Carry's Legal Boundaries by State should be owned by everyone that carries in the United States. As you travel, laws change, this book is a quick reference to show you what's allowed and not allowed.
If you're looking for a comprehensive guide to gun laws in the US, this book has everything you need to know to legally travel the country with your firearms.
Book Features: 
If State has Duty to Notify Law Enforcement
State Magazine Capacity Limitations
How one can legally

possess a firearm in the vehicle

in a state where the gun owner has no recognized permit(s)
What department or agency in the state issues concealed carry permits
If the state issues

concealed carry permits to non-residents
The book goes into detail about carrying and firearm possession in hotels, vehicles, schools, state and national parks, if alcohol is served and much more.
Knowing the laws of what you can and can't do is a lifesaver. It's always better to know and actively seek knowledge than to assume and get yourself into a jam.
Unknowingly Breaking a Gun Law?? ...
Read the story here about Elizabeth Elderli
The book also features a section on Air Travel – how to properly check a firearm, firearm parts or ammunition when flying. And how to research and apply FOPA 926A to be able to transport firearms through any state regardless of local laws.
Perk – The purchase of a book includes PERMANENT access to all future versions and updates to ebook. Every time the book is updated, login to your account and download the newest version.
After getting a copy, all of us here at Applied Gear feel that more confident in traveling and carrying. We 100% recommend this product and feel everyone that owns a firearm own a copy of this book as well. Because it comes in digital and physical, have it on your phone everywhere you go. We love a physical book so went with both options. This book is highly informative and thorough, can't beat being able to download the newest version whenever it's released to stay up to date with each state's carry laws. Take some time to learn about the laws for the firearms you carry, it's your duty! 
---